Income Tax Fraud
Once taxpayers are done filing their IT Returns, after a few days or so , they start to receive an email / SMS saying that they are entitled to some amount of money as a refund.
The name and the images resemble the Income Tax department. The mail / SMS includes a link to the website where you need to enter information and request for Refund. If you click on the link, It loads a webpage that looks like the Income Tax Website and you might think that the stuff there is genuine.
The website asks for Account related Information such as Credit / Debit card details including Number , CVV, Expiry Date and PIN.
Here's what a phishing mail looks like. Click here for more examples of Phishing emails.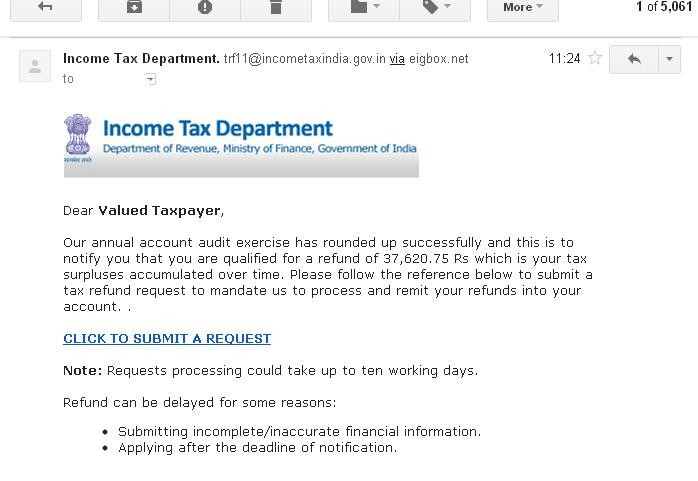 Preventive Measures for Income Tax Fraud
Always look at the sender's address, phishing emails have sender email address that resembles genuine entity ex. incometaxefiling@gov.in, and are often spoofed. notice the missing l from filling.
If you receive email or SMS containing a Link to issue the refund of your IT returns, do not open it.
IT Department or any other financial Institution never asks users their personal information over SMS, Email or Phone Call. If there is a need to communicate, you will receive a written letter on your address of correspondence.
Report to Income Tax Website In case you receive such Phishing emails or SMS.
Report an Incident of Income Tax Fraud